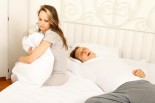 Are you incompatible in the bedroom? Not sexually that is, but based on how you sleep?
Your sleep patterns can affect your relationship; not to mention the affect snoring has on a harmonious marriage.
A UC Berkeley study suggests that lack of sleep may diminish the positive feelings you have for your partner. Researchers found people with lower quality sleep demonstrated lower levels of gratitude and were more likely to have feelings of selfishness than those who slept well.
According to additional research, more and more couples are sleeping in separate bedrooms. Dr. Michael Breus, PhD, says it's estimated that 25 percent of couples in the U.S. are sleeping apart, with the number on the rise in recent years.
So, is it a good idea for you to sleep apart to improve your individual sleep and potentially your relationship as well?
Dr. Breus is a Clinical Psychologist who is known as the "Sleep Doctor." He shares how you can blend your sleeping habits and create a sleep-friendly bedroom.