Any successful goal starts with a plan.
Unfortunately, our over-stressed, over-scheduled lifestyles don't always allow for us to follow through with our best intentions. Too often, we end up hitting the drive-thru as a solution.
A health gut (flora) makes life a lot easier. The good news is: there is something you can do about that! Try Kaya Biotics – as a treat for your gut. Click on this link to save 25% off your first order, use code "goodhealth" at checkout. -

sponsor
The evidence of this choice is apparent on our collective waistlines. 
Nikki Sharp, former model, Instagram star, and author of
The 5-Day Real Food Detox
discovered that the best way to drop pounds and feel great is through meal prep: making portion-controlled dishes in advance that can be enjoyed all week. In her new book,
Meal Prep Your Way to Weight Loss
, Sharp shares her secrets and shortcuts for creating a week's worth of healthy, plant-based food designed to help you lose the weight and keep it off.
Sharp joins Dr. Friedman to explain what you'll learn as a "meal prep master," including:
Steady, satisfying weight loss—up to five pounds each week
Automatic portion control without counting calories, fat grams, or carbohydrates
An escape from emotional eating and bingeing
Tips and tricks for easy-to-freeze preps
Stress-free cooking, eating—and an overall healthy lifestyle
Listen in to learn more about this effective approach to a healthier, slimmer life.

Sponsor: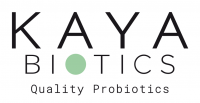 A health gut (flora) makes life a lot easier. The good news is: there is something you can do about that! Try Kaya Biotics – as a treat for your gut. Click on this link to save 25% off your first order, use code "goodhealth" at checkout. -

sponsor