Many of us aren't living a full life, whether due to health concerns, stress, relationship drama, or personal trauma.
You don't have to stay "stuck" in such an existence. 
A health gut (flora) makes life a lot easier. The good news is: there is something you can do about that! Try Kaya Biotics – as a treat for your gut. Click on this link to save 25% off your first order, use code "goodhealth" at checkout. -

sponsor
Lillian McDermott is a Life Coach and host of the syndicated radio program, The Lillian McDermott Show. It is her commitment to promote healing and to help make awareness, responsibility and truth a part of everyday life.
Her work over the years has led to whole-health insights that allow individuals to achieve the life of their dreams. 
Listen as Lillian joins Dr. Friedman to discuss these essential life factors.
Sponsor: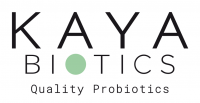 A health gut (flora) makes life a lot easier. The good news is: there is something you can do about that! Try Kaya Biotics – as a treat for your gut. Click on this link to save 25% off your first order, use code "goodhealth" at checkout. -

sponsor