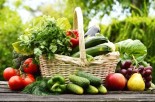 It's YOUR time on
HER Radio.
Be a part of the show... make your comments and ask your questions by email, This email address is being protected from spambots. You need JavaScript enabled to view it. . It's time to Ask HER. Today, on
HER Radio
you wanted to know:
Do I need an annual physical?
This is a very important question. You may wonder if you really need to see your doctor every year, especially if you're not feeling ill.
According to an article written in the
NY Times
, "The main problem with physicals is that they are designed for the needs of insurance companies, not patients."
Having a physical can be a good way to build a relationship with your doctor, instead of just seeing your doc when you're sick and need immediate care. This gives a chance for you to build trust and to openly communication about any health concerns you may have.
Should I buy only organic foods?
If you've shopped around in your grocery store, you might have noticed organic food is a little pricey compared to "regular" food.
However, in regards to nutrients, organic foods still have the risk of containing toxins. They are sharing the same soil that is lacking nutrients and being exposed to pesticides and other chemicals. But, organic produce
does
contain more essential minerals and vitamins than non-organic produce.
This isn't a simple yes or no answer, and it all depends on what you personally believe.
How can I calculate ovulation?
Knowing when you're ovulating is crucial if you're wanting to conceive. During this time, your body releases an egg to be fertilized. However, your menstrual cycle can be a little tricky, leaving you confused when you and your partner should be trying.
There are so many other factors that can play a role in your ovulation that you may not know about. For example, some women aren't regular, and you might even be having two periods a month. Stress, your level of physical activity, and your hormone levels may also contribute to your ovulation.
It can be difficult to predict exactly when your ovulation period begins and ends, since it's a possibility it can vary from month to month. Usually every woman has a 28-day cycle and ovulation typically occurs two weeks before menstruation.
You may want to chart your menstrual cycle, so you'll have a better idea of when you're actually ovulating.
If you have a personal health question that you want answered, Pam and Michelle encourage you to send them in to This email address is being protected from spambots. You need JavaScript enabled to view it. .