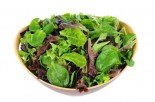 Kale has gained a huge following. From foodies to parents, people are sharing their new-found love of kale.
Even though kale does have some amazing health benefits, there are many other leafy greens that are actually healthier than kale.
What are these 10 greens?
Collard Greens
Romaine Lettuce
Parsley
Leaf Lettuce
Chicory
Spinach
Beet greens
Chard
Chinese cabbage
Watercress
Listen in as Abbie Gellman, MS, RD, shares the 10 greens that are healthier than kale.