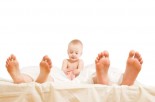 A lot of women think or feel that they are ready for sex after giving birth, but they are worried about the pain and don't feel attractive or sexy.
But remember, it took your body nine months to expand and adapt to the baby growing inside of you, so try to not be too hard on yourself and have unrealistic expectations about bouncing back to your pre-baby body.
Patience really is key here. As soon as your doctor permits exercise, you can start slowly getting your body back into shape.
Seriously though, girl talk time: is it ever going to
look
the same "down there"?
It may not look exactly the same as it did pre-childbirth, but that doesn't mean your vagina isn't going to look normal. There are some things you can do, like kegel exercises where you are helping to strengthen the pelvic floor muscles and get you looking good as new.
Most health care providers recommend waiting six weeks before having intercourse after a vaginal delivery or c-section. This typically always adequate time for you to heal from a episiotomy, lacerations, bleeding, soreness or pain. 
Although you can't have sex during this time, that doesn't mean that you have to entirely give up on intimacy. There are plenty of other ways for you to be intimate with your significant other that do not need to involve vaginal penetration. If you (or he) are "up" for it, cuddling, fondling, oral stimulation or mutual masturbation are acceptable. 
Physical considerations aside, how do you fit in sex now that you have this insane, around-the-clock schedule? All new mothers experience some level of fatigue. It's hard to have any sort of sex drive when you are physically and emotionally exhausted. The first few weeks at home with the baby may feel like pandemonium; but you will start to get into a rhythm. It may not sound sexy, but it really is a matter of time management. Once you get your baby on a schedule, you will get on a schedule and it should slowly fall into place. 
OB/GYN Dr. Aylssa Dweck tells you how you can get your sexy back post-pregnancy. 
Tips for dealing with fatigue:
Nap when your baby is napping
Rely on family and friends to come and watch your baby while you get some shut-eye
Make sure there is formula or breast milk available so your partner can feed the baby while you rest