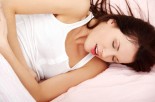 A whopping 85 percent of pregnant women will feel nauseated and become physically ill in the first trimester.
What exactly
is
morning sickness, though, and why does it occur?
Morning sickness, also known as nausea gravidarum, nausea/vomiting of pregnancy (NVP), emesis gravidarum or pregnancy sickness, is nausea and vomiting that affects over 50 percent of pregnant women. For some pregnant women, the symptoms are worse in the morning and ease up over the course of the day, hence the name "morning sickness." (
Medical News Today
)
There is a extreme end of the spectrum of morning sickness that you should be concerned about called Hyperemesis gravidarum, or HG. This type affects about two percent of expectant mothers and sets in sometime before the ninth week of pregnancy. It is one of the most common causes of hospital admissions for pregnant women. (
The Stir
)
Physicians aren't really sure what causes morning sickness; however, there seems to be some sort of protective effect for women who experience the condition. A study published in the
Journal of Reproductive Toxicology
suggests that morning sickness may be a sign of a healthier, more intelligent baby, and may also indicate a lower chance of miscarriage. (
Telegraph
)
In fact, some researchers have theorized that morning sickness may just be nature's way of protecting the fetus from a mom ingesting toxins.  
That said, morning sickness should be looked into by your doctor to verify that it is solely related to the pregnancy. It could also be an indication of high levels of hormones, such as estrogen, or a thyroid issue. 
So, what if you
aren't
having morning sickness? Is that a bad sign? 
OB/GYN Dr. Alyssa Dweck explains why morning sickness may be a good sign for your baby and the best ways to deal with the condition. 
Ways to treat morning sickness: 
Ginger
Mint tea
Acupressure 
Acupuncture 
Medications