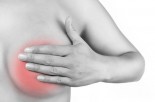 It's YOUR time on
HER Radio
. Be a part of the show... make your comments and ask your questions by email, This email address is being protected from spambots. You need JavaScript enabled to view it. . It's time to Ask HER.
Today on
HER Radio
, you wanted to know:
What are some reasons why my breasts are so tender?
Many women experience breast tenderness for a handful of different reasons.
You could have done an intense workout, you could be PMSing, or you might be wearing the wrong bra size. You might have even pulled a muscle that could be causing your breast pain. Cyclic pain is typically the most common type of breast pain and is usually caused by hormonal changes within your body. Younger women also experience this more during menstruation.
Usually, the pain will disappear without needing any treatment and will usually disappear after menopause.
Noncyclic pain usually occurs in women between the ages between 30 and 50. This type of pain typically feels sharp and kind of like a burning sensation. This pain is often brought on from a cyst and can be healed with treatment. However, if your pain is consistent and isn't feeling better within a couple of days, you may want to consider seeing your doctor.
I feel sleepy after eating... why is this?
Have you ever eaten so much that you feel like you're having a "food baby" or need to lay down and take a nap? You might experience this feeling most often during or after holiday meals or parties. Certain foods may also make you feel this way more than others. For example, overly eating carbs, sugars, and alcohol can slow your digestion and give you that sleepy feeling.
If you have a personal health question that you want answered, Pam and Michelle encourage you to send them in to This email address is being protected from spambots. You need JavaScript enabled to view it. .