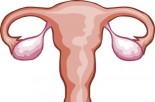 You might remember a couple of years ago when Angelina Jolie shocked the public at her drastic decision to have a double mastectomy, due to her increased risk of breast cancer.
After she had her blood tested, she found that she carried the mutation of the BRCA1 gene, which gave her an estimated 87 percent risk of breast cancer and a 50 percent risk of ovarian cancer. Jolie has stated in interviews that she lost her mother, grandmother and aunt to cancer.
Recently, she revealed that she would be also removing her ovaries and fallopian tubes because of the increased risk of cancer, and how she wants to inform all women who might one day or who are in her shoes, questioning what to do next.
However, having an oophorectomy (if you're under a certain age) can throw you into early menopause. This means you won't be able to have children, and you might have to take hormones to keep your body in balance.
What are the risks of this surgery, and should you consider having it?
Philip M. Sarrel, MD, discusses Angelina Jolie's latest surgery and if you should consider doing the same.