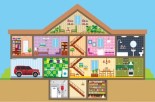 You might have heard on the news that the allergy experts are warning you of a "pollen tsunami" this spring and early summer.
Allergies are hitting hard this year because of the harsh, extensive winter.
And, because of climate change, allergy season will start early and last longer in the coming years.
According to the Asthma and Allergy Foundation of America, there is an estimated 50 million Americans who suffer from allergies.
What are some ways you can reduce allergy and asthma symptoms in your home?
Making a few simple changes in each room of your house can dramatically reduce symptoms of asthma and allergies. For example:
Bedroom: Make sure you follow the "rule of threes" with pillows. Wash zippered pillow covers every three weeks, wash pillows every three months, and replace your pillow every three years.
Bathrooms: Replace your vinyl liner with a nylon shower curtain liner. Although wallpaper is a trend in bathrooms, it's a big no-no as moisture can become trapped behind the wallpaper.
Kitchen: Choose eco-friendly cabinetry made from low-VOC paints, stains and adhesives. Install a strong exhaust fan that will vent smoke and other substances outdoors.
The garage: Don't store potentially toxic cleaning supplies, paints, hazardous materials and pesticides, even if they are tightly sealed.
The basement: Since many basements tend to be damp, mold and mildew can be a big concern for asthma and allergy sufferers.
Outdoors: Keep grass cut low to a maximum of two inches high. Keep the windows in the house closed while mowing and for a few hours afterwards.
Furniture: Look for brands that use toxin-free finishes. Choose furniture that can be cleaned easily to remove dust and dirt.
Listen in as eco-friendly interior designer, author and entrepreneur, Robin Wilson, shares tips on how to reduce allergy and asthma symptoms in your home.