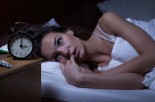 It's YOUR time on
HER Radio
. Be a part of the show... send your comments and ask your questions by email, This email address is being protected from spambots. You need JavaScript enabled to view it. . It's time to Ask HER. Today, on
HER Radio
you wanted to know:
How can I cure insomnia?
Insomnia is a disorder where you have a difficult time falling asleep, staying asleep, or both. Insomnia can cause your energy level and health to spiral out of control.
Fortunately, there are some treatment options available if you've been suffering from a lack of sleep. First, you may want to consider changing your lifestyle habits. For example, before going to bed, try some relaxation exercises like deep breathing and muscle relaxation.
There are some medications that can help with your insomnia, including Lunesta, Ambien, and Ativan.
What's the best way to stop a shopping addiction?
"Shop 'til you drop" is an expression commonly used in good fun. However, some people actually struggle with a shopping addiction. Also known as omniomania, shopping addiction has some of the same characteristics as a substance addiction.
If you think you might have an addiction with shopping, you may want to consider reaching out and speaking to a professional about it.
What is the leading cause of death for women today?
The number one cause of death for women today is cardiovascular disease and stroke.
If you have a personal health question you want answered, Pam and Michelle encourage you to send them in to This email address is being protected from spambots. You need JavaScript enabled to view it. .