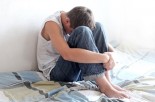 Researchers have found that rates of suicide among African-American children, specifically boys, have doubled since 1993. This surpasses the rates among white children (for the first time), which dropped over the same period.
In fact, the
New York Times
reports researchers were surprised to find that suicide rates among black boys ages five to 11 nearly doubled between 1993 and 2012, rising from 1.78 to 3.47 per million. All this while the rates among white boys of the same age group decreased from 1.96 to 1.31 per million.
Why such a difference in rates? Are situations different?
Please know that if you or someone you love is suffering from depression and thinking about suicide, you're not alone. The suicide prevention hotline (1-800-273-8255 or 1-800-273-TALK) is available 365 days a year, 24/7.
Listen in as Lanada Williams, LPC, joins
HER Radio
to discuss these recent findings and what can be done to control or prevent this problem.