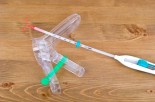 An IUD is a small, t-shaped piece of plastic, each arm about the size of a matchstick, that is placed inside a women's uterus by her physician or nurse practitioner as a form of birth control.
IUDs are the most effective forms of reversible birth control that are offered to women today. They are more than 99 percent effective, and, being such, recommended as first-line options for all women.
Recently, a study found that young women who use an IUD for long-term contraception are generally happy with this form of birth control.
What did the researchers find?
About 83 percent of women said they were happy or very happy with the method at an average of one year, and 87 percent said that they would recommend it to a friend.
One of the benefits women love about an IUD is not having to remember to take a pill every day at the same time and knowing that their birth control is highly effective.
Also, women who used the Mirena, or hormone-containing IUD, had lighter periods with less cramping, which they felt was a huge benefit.
Researchers also found that problems were rare with an IUD. A few women, three percent, did have a spontaneous expulsion, and some women (five percent) had some cramping or discomfort, upon which they chose to have the IUD removed.
However, 89 percent of women continued use at one year, which is also far higher than the continuation rates seen for other methods. Finally, despite what many women hear about IUDs, there were no cases of serious pelvic infections.
What should women take away from this study?
Dr. Alexandra Hall shares the recent findings on why young women are satisfied with their IUDs, as well as why it can be a great option for women's contraception.