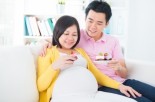 Pregnancy can be one of the happiest moments in your life, especially if you've always wanted to be a mom.
It can also be one of the most harrying times.
Not only do you go through physical and emotional changes, but you also are taking on more responsibilities, which can add a lot of stress and anxiety to pregnancy.
Throughout the months of being pregnant, you may experience food cravings (some healthy and others not), as well as numerous baby showers filled with cutesy desserts and cakes.
Now, more than ever, it can seem like such a struggle to stay healthy for you and your baby.
According to the American Congress of Obstetricians and Gynecologists, it's reported that more than half of pregnant women are overweight or obese, which can put women at risk for pregnancy complications.
What are some specific foods you should be eating throughout each trimester?
Nicole M. Avena, PhD, discusses the link between pregnancy and obesity and what you should do to gain (and maintain) a healthy weight for your baby.