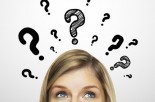 It's YOUR time on
HER Radio
. Be a part of the show... send your comments and ask your questions by email, This email address is being protected from spambots. You need JavaScript enabled to view it. . It's time to Ask HER. Today, on
HER Radio
you wanted to know:
What are some warning signs of depression?
Depression is a serious medical disorder that causes tenacious feelings of sadness, hopelessness and helplessness. It can interfere with your daily tasks and can lead to suicide.
Symptoms include constantly being sad, a loss of pleasure in what used to bring joy, changes in sleep and appetite, loss of energy and motivation, problems with memory or concentration, and a preoccupation with dying.
Can headphones causing hearing problems?
Research has shown that listening to music at a high level (in a car, your home, or a concert) can cause some hearing problems. However, nowadays headphones are designed to go inside of your ear, bringing the music closer to your eardrum.
In fact, according to the American Osteopathic Association, one in five teens have some sort of hearing loss, which is a 30 percent higher rate than it was in the 1980s and 1990s.
What is an ectopic pregnancy?
An ectopic pregnancy is when the fertilized egg ends up attaching itself to your fallopian tube. Even though this is very rare, it does require an emergency treatment.
If you have a personal health question you want answered, Pam and Michelle encourage you to send them in to This email address is being protected from spambots. You need JavaScript enabled to view it. .