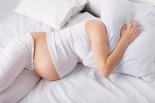 Even though you may be thrilled to be having a baby, you might also have feelings of doubt, nervousness, and even depression during your pregnancy.
In fact, According to The American Congress of Obstetricians and Gynecologists (ACOG), between 14-23 percent of women will struggle with symptoms of depression during pregnancy.
Even though there are treatment options available, they might not work optimally.
If you or someone you know is suffering, would you consider using Transcranial Magnetic Stimulation (TMS)?
TMS is a non-invasive neuro-stimulation treatment that was approved by the FDA in 2008. This treatment is used for people who have not responded to antidepressants and other therapies.
How can TMS help if you're experiencing depression during or after your pregnancy?
Deborah Kim, MD, shares everything you need to know about TMS.