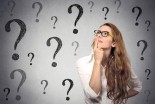 It's YOUR time on HER Radio. Be a part of the show... send your comments and ask your questions by email, This email address is being protected from spambots. You need JavaScript enabled to view it. . It's time to Ask HER. Today, on HER Radio you wanted to know:
What are warning signs of gluten intolerance?
Some of the symptoms of gluten intolerance include abdominal pain, cramping, bloating, body aches, brittle nails, dry hair, diarrhea, nausea, fatigue, hair loss, headaches, vomiting, vitamin and mineral deficiencies, weight loss, and may more.
If you're experiencing any of these symptoms, you should consult a gastroenterologist to get tested to rule out celiac disease.
Why do some women get such bad menstrual cramps?
During "that time of the month," some women may experience little-to-no cramping. However, other women can experience severe cramping that can get in the way of everyday life.
The pain you experience is located in the lower abdomen and can last up to three days. These cramps occur because your uterus is contracting and can press on your blood vessels, which can cut off the supply of oxygen to the muscle tissue of your uterus.
If the pain is very severe, you might want to speak to your doctor about ruling out identifiable problems like uterine fibroids or endometriosis.
How can I make healthy eating choices during the holidays?
Letting go during the holiday season can be easy, considering all the tempting foods and fancy cocktails that surround you. However, overeating and drinking can set you back when you try to restart your weight loss or healthy living goals.
However, you can get through the holidays by being more aware of what you're eating, controlling your portions, planning ahead, only eating when you're hungry, slowing down while you're eating, and keeping a food diary.
If you have a personal health question that you want answered, Pam and Michelle encourage you to send them in to This email address is being protected from spambots. You need JavaScript enabled to view it. .