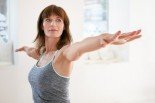 "Your strongest muscle and your worst enemy is your mind. Train it well." -Unknown
Resuming activity after surgery is challenging, especially if you were a busy body prior to your procedure.
The body wants to move. The mind knows recovery is necessary. Compromise between the two will help your mind and body. Don't do too much.
You may want to find a trainer who can supervise your rehabilitation and regrouping efforts. This outside perspective can keep you from pushing yourself too much, while still allowing you to get physical benefits from the workout.
Don't wallow after life presents you with challenges. Consider the cause of the surgery as a speed bump. Get your strength back and accept support. Use that to enhance other people's lives as well.
Listen in as fitness expert Liz Corah shares the lessons she's learned from surviving meningioma surgery.