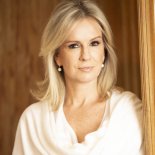 Stories of suicide flood the news. It is the tenth leading cause of death in the United States.
The people who are left behind when someone commits suicide have to deal with the aftermath. The estimate is that 135 people are directly affected by one person's suicide.
You have to find a way to grieve while finding joy and happiness in your own life. You can have post-traumatic growth. You'll go through the pain, but you don't have to suffer. 
Real life is messy. Use the opportunity for growth and allow yourself the chance to mourn.
Listen as Dr. Jennifer Ashton joins Dr. Pamela Peeke to discuss life after suicide.
Sponsor:
Smarty Pants Vitamins