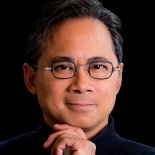 Now, more than ever, is the time to shore up your body's health defenses. One of the most critical elements for staving off infection, or managing infection should you contract the COVID-19 virus, is nutrition.
Dr. William Li, author of
Eat To Beat Disease: The New Science of How Your Body Can Heal Itself
, explains the various foods and nutrients you should be consuming to boost the power of your immune system. He also explains the other steps you can take (exercise, sleep) to optimize your body's self defense forces. 
And, he covers why "stress eating" -- as comforting as convenient, processed foods may be -- is so damaging to your body's ability to fight off infection.
Sponsor:
Smarty Pants Vitamins