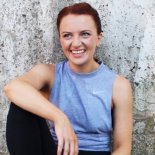 The COVID-19 pandemic has interrupted the fitness routines of many. 
Whether your gym has closed or you're missing out on outdoor hikes, it's highly frustrating to not be able to exercise. Not being able to work out not only impacts your physical health, but your mental health as well. 
For those who haven't been keeping a regular exercise regimen, this is the time to start moving your body. 
K. Aleisha Fetters, MS, CSCS, author of 
Fitness Hacks for Over 50
, joins Dr. Peeke to share some tips for staying (or getting) fit during the lockdown. 
Sponsor:
Smarty Pants Vitamins