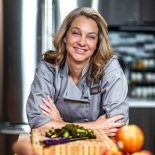 Can you believe we're going on 7 months of this pandemic mess? As we head into fall, it seems like some people are starting to head back to restaurants, but a LOT have been getting into cooking and baking.
Well, today we're talking to Chef Abbie Gelman, who has been a Registered Dietitian for more than a decade, and a chef for twice as long as that. 
She talks with Dr. Pam about diving into comfort food when the world gets crazy, batch cooking for your future self, changing your diet for boosting immunity, and navigating the grocery store in a pandemic.