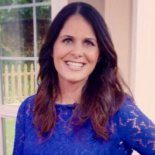 When a woman gets pregnant or is trying to get pregnant - she is constantly given a list of what to avoid, and what not to do.

And this is why Dr. Nicole Avena wrote her new book What To Eat When You Want To Get Pregnant. It is an approachable guide to what to eat - as opposed to what to avoid - while pregnant and nursing, to support the mother's health and the baby's development during each stage of pregnancy; with 50 recipes!

New research suggests that the foods you eat during pregnancy can have lasting effects on your baby's brain development and behavior, as well as your waistline. Drawing from medicine, nutrition, and psychology, this easy-to-follow guide, gives you a clear understanding of what your body really needs and how certain foods contribute to the development of a healthy and happy baby.
Dr. Nicole Avena is a research neuroscientist, author, and expert in the fields of nutrition, diet, and addiction. She received a Ph.D. in Neuroscience and Psychology from Princeton University, followed by a postdoctoral fellowship in molecular biology at The Rockefeller University in New York City.