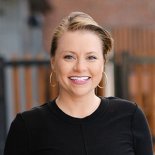 There are few days that divide your life into two parts: before times and after times. For Liya Shuster-Bier, January 11, 2018, was one of those days. That morning, doctors discovered an 8 by 10 cm tumor in the center of her chest. Within days and on the cusp of her 30th birthday, she was diagnosed with stage 2 primary mediastinal b-cell non-Hodgkin lymphoma.
As friends and family flocked to her side to offer support, the organization of all that care was exhausting. So she began Alula. 
Alula
is a digital community and care navigation platform making cancer less lonely, built by someone who's been there. Its mission is to provide cancer patients and caregivers with powerful digital tools to help them through the entire lifecycle of cancer — from diagnosis and treatment through recovery and survivorship.
In this stunning, moving episode, Liya shares with us her cancer journey, what she hopes to accomplish with Alula, and how Alula's health-tech platform represents a breakthrough in the oncology field with its ability to transform the patient experience outside the hospital room — a key piece that's missing from cancer care today.