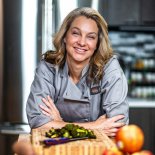 It's the beginning of another month which means Chef Abbie Gelman is back in the studio!
Our go-to on all things healthy nutrition for women, Chef Abbie has been a Registered Dietitian for more than a decade, and a chef for twice as long as that.
This month is all about protein. Women aren't eating enough protein, and diets are all over the place these days. What's the right amount of protein for the typical, everyday woman? The best protein for each meal, and tips for becoming toned & fit. 

Tune in on the first Thursday of each month for tips from Chef Abbie, right here on HER.