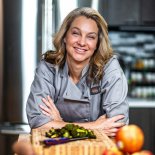 It's the beginning of another month which means Chef Abbie Gelman is back in the studio!
Our go-to on all things healthy nutrition for women, Chef Abbie has been a Registered Dietitian for more than a decade, and a chef for twice as long as that.
For March we're diving into sugar and sweeteners. We all know white sugar is bad, but sometimes the replacements are even WORSE for you! Get to know your natural and healthier options for sweetening drinks, foods and desserts.

Tune in on the first Thursday of each month for tips from Chef Abbie, right here on HER.