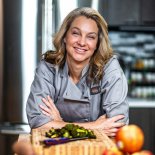 Let's get down to the bone here. Many women are confused about how to optimize bone health.
Well, we're going to help you with this edition of Healthy Nutrition Nudges segment talking all about bone health and calcium-rich foods. 
Our chef in residence Chef Abbie has been a Registered Dietitian for more than a decade, and a chef for twice as long as that.
Chef Abbie & Dr. Pam talk about anatomy, where you can find vitamin D in foods and exercise for healthy bones. 


Tune in on the first Thursday of each month for tips from Chef Abbie, right here on HER.