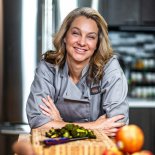 The gut is everywhere. It's all the rage right now. Everywhere you turn someone is telling you how to balance your gut and what probiotics to take.
Well today, we are getting to the bottom of what's really necessary to help out your microbiome. And for that, Chef Abbie is back for her monthly installment of Healthy Nutrition Nudges. She has been a Registered Dietitian for more than a decade, and a chef for twice as long as that.
Chef Abbie & Dr. Pam talk about feeding those little microbe critters in your belly in this episode and give you some nutrition tips to keep them happy and healthy. 


Tune in on the first Thursday of each month for tips from Chef Abbie, right here on HER.