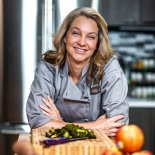 Do you really think, honestly, that you are hitting it with your nutrition? Like when people say strive for 5, that you're totally nailing it?
Even the healthiest of us like to think we are, but most likely, you aren't actually getting all the nutrition you need. And that's when supplements come in to help. No one is perfect! 
And who better to discuss this topic with than Chef Abbie, for her monthly installment of Healthy Nutrition Nudges. Chef Abbie has been a Registered Dietitian for more than a decade, and a chef for twice as long as that.
That's right, Chef Abbie & Dr. Pam are back together to talk about the culture around eating healthy & organic, how busy lives are ruining our eating patterns, and what you can do when your diet isn't giving you enough nutrients. 


Tune in on the first Thursday of each month for tips from Chef Abbie, right here on HER.