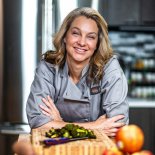 Are your hair and nails as healthy as they could be?!
We have to admit it, as women, we care about this stuff. So we're diving into Biotin, Vitamin H, and everything you need to help boost your beauty from the inside. 
Joining us is, of course, Chef Abbie, for her monthly installment of Healthy Nutrition Nudges. Chef Abbie has been a Registered Dietitian for more than a decade, and a chef for twice as long as that.
Chef Abbie & Dr. Pam chat about natural sources of biotin, well-rounded meals & snacks, canned fish, and why you shouldn't eat salads without protein. 


Tune in on the first Thursday of each month for tips from Chef Abbie, right here on HER.