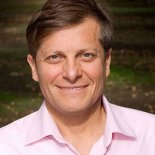 Believe it or not, living to 100, 120, or even 130 years old will become increasingly common over the next decade--and life past 100 may not be what you think. In his latest book, The Great Age Reboot: Cracking the Longevity Code for a Younger Tomorrow, best-selling author Dr. Mike Roizen explains how cutting-edge science and technology will revolutionize your ability to live longer, younger, and better.
With more than 40 years of experience as a medical doctor—certified in Internal Medicine and Anesthesiology, Dr. Roizen is the Chief Wellness Officer Emeritus of the Wellness Institute at the Cleveland Clinic, is a professor at the Lerner College of Medicine of the Cleveland Clinic at Case Western Reserve University, and developed the RealAge concept to motivate behavior change.

As evidenced in the global press, today's breakthroughs in longevity research are unprecedented. This will help you prepare for the next major social disruptor by making the best decisions for your brain, your body, and your bank account.

Dr. Roizen and one of his co-authors, acclaimed economist Albert Ratner, join Dr. Pam today to discuss the new book and illuminate the prevention, treatment, and technology that will reshape how we think about old age--and help us plan for an audacious future.