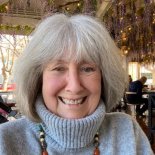 Let's face it: Life is something we all makeup as we go along. No matter how carefully we formulate a "script," it is bound to change when we interact with people with scripts of their own.
Our guest's book,
"Improv Wisdom"
  shows us how to apply the maxims of improvisational theater to real-life challenges—whether it's dealing with a demanding boss, a tired child, or one of life's never-ending surprises.
Patricia Ryan Madson distills thirty years of experience into thirteen simple strategies, including "Say Yes," "Start Anywhere," "Face the Facts," and "Make Mistakes, Please," helping readers to loosen up, think on their feet, and take on everything life has to offer with skill, chutzpah, and a sense of humor.
Patricia is a professor Emerita from Stanford University where she began teaching in 1977. In the Drama Department, she served as the head of the undergraduate acting division and developed the improvisation program. She founded and coached the Stanford Improvisors and taught beginning and advanced-level courses in improvisation for undergraduates as well as adults in Stanford's Continuing Studies Program.