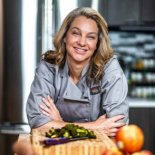 Magnesium - it's found in leafy greens, nuts, seeds, and beans, but underrated in importance. 60% of magnesium in the body occurs in the bones, as well as muscles, soft tissues, fluids, blood.
Good for the brain and body, including your heart, blood sugar levels, and mood, every single cell in your body actually has magnesium in it and needs it to be able to function.
Tune in on the first Thursday of each month for tips from Chef Abbie, right here on HER.