Elissa Goodman faced a cancer diagnosis when she was 32. She learned that we are a product of what we eat and how we live.
A health gut (flora) makes life a lot easier. The good news is: there is something you can do about that! Try Kaya Biotics – as a treat for your gut. Click on this link to save 25% off your first order, use code "wholehealth" at checkout. - sponsor
Elissa advocates for self-care, especially if you're intending to raise a family. Therapy is helpful in dealing with past trauma or a current health diagnosis. Addressing stress and upset can contribute to overall healing and wellness.
For best health, Elissa recommends eating plenty of fruit and vegetables. Reduce sugars to lower inflammation. Get plenty of sleep so your body can heal.
Listen as Elissa joins Dr. Taz to discuss personal hacks to jumpstart your own healing.
Sponsor: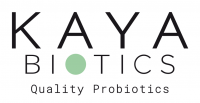 A health gut (flora) makes life a lot easier. The good news is: there is something you can do about that! Try Kaya Biotics – as a treat for your gut. Click on this link to save 25% off your first order, use code "wholehealth" at checkout. - sponsor