Dr. Todd Sinnett knows that there's more to back pain that you might think. Our organs and muscular system are related. The foods you eat may be causing you discomfort.
A health gut (flora) makes life a lot easier. The good news is: there is something you can do about that! Try Kaya Biotics – as a treat for your gut. Click on this link to save 25% off your first order, use code "wholehealth" at checkout. - sponsor
Twenty percent of the world suffers from back pain. Eighty-five percent of people will suffer back pain at some point in their lives. It is the primary reason for job disability and the second most common reason for missed work days. Many people accept that back pain is part of life, not seeking remedy.
Back pain comes from structural sources, tension from emotions and stress, and diet.
Dr. Sinett hears back pain complaints from many individuals with an unhealthy diet of simple carbs and simple sugars. He also sees individuals who eat too much of foods considered healthy, like protein bars, salads, oatmeal and club soda. Anything that causes digestive inflammation can lead to back pain.
And, not all people digest food the same way so your sister or partner may be able to eat certain foods without any of the negative effects.
Listen as Dr. Sinett joins Dr. Taz to discuss how your diet may be causing your back pain.
Sponsor: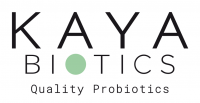 A health gut (flora) makes life a lot easier. The good news is: there is something you can do about that! Try Kaya Biotics – as a treat for your gut. Click on this link to save 25% off your first order, use code "wholehealth" at checkout. - sponsor