Dr. David Friedman noticed the food rules were always changing. Something that was bad for you one day was proclaimed as having great health benefit the next.
To cut through the noise, Dr. Friedman advises combining these three things:
Common science: Find out what the studies show.
Common sense: Trust your gut instead of what you see in the media.
Biology: The body should be designed to utilize the food you eat.
Consider eliminating animal milk, eating more fish, and reducing your red meat consumption. Eat like your grandparents, consuming things that were available decades ago.
A health gut (flora) makes life a lot easier. The good news is: there is something you can do about that! Try Kaya Biotics – as a treat for your gut. Click on this link to save 25% off your first order, use code "wholehealth" at checkout. - sponsor
Diets often fail. The focus is on food. The problem is that there are hormone disruptors that prevent weight loss. Plastics labeled with the numbers 5 or 7 have higher BPAs and interfere with hormones. If the PLU code on your produce has an 8, it contains GMOs. Stick to produce with stickers that begin with 9.
Listen as Dr. Friedman joins Dr. Taz to help address the culinary conundrum.
Sponsor: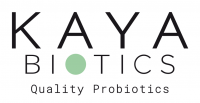 A health gut (flora) makes life a lot easier. The good news is: there is something you can do about that! Try Kaya Biotics – as a treat for your gut. Click on this link to save 25% off your first order, use code "wholehealth" at checkout. - sponsor