The term "Blue Zones" encompasses those areas around the globe where people live the longest. Some of this longevity is nutrition-based, but as certified Qigong Meditation expert Simon Cheng believes, concentrated breathwork -- such as that practiced with Qigong -- also has incredible benefits. 
This type of breathing teaches your body to turn on the parasympathetic nervous system--the "rest and digest" system (opposite of fight or flight).
A health gut (flora) makes life a lot easier. The good news is: there is something you can do about that! Try Kaya Biotics – as a treat for your gut. Click on this link to save 25% off your first order, use code "wholehealth" at checkout. - sponsor
Simon's journey to his expertise in Qigong was not without angst. After years of being caught up in the "rat race," suffering multiple health issues, and undergoing a traumatic surgery which didn't resolve any of his medical problems, Simon went back to his roots: Eastern Medicine.
Simon joins Dr. Taz to explain the benefits of breathwork, a few simple tips for getting yourself to that parasympathetic state, and additional lifestyle factors that contribute to health, well-being and longevity.
For more information, you can also access Simon's blog post, entitled "
Medicinal Breathwork: 3 Simple Steps To Turn Your Breath Into Medicine And Cure Illness
."
Simon is also offering listeners a great deal when shopping on the Pique Tea website -- 
Up to 28% off PLUS Free Shipping on orders
. To claim your offer, click
HERE
.
Sponsor: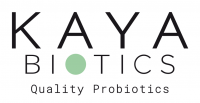 A health gut (flora) makes life a lot easier. The good news is: there is something you can do about that! Try Kaya Biotics – as a treat for your gut. Click on this link to save 25% off your first order, use code "wholehealth" at checkout. - sponsor