Kids get stressed too. 
Our fast-paced, always on-the-go society has resulted in increasing levels of anxiety for kids and teens. And, unlike adults who have had years building their coping skills, children may not know how to handle the unfamiliar feelings of stress and anxiety.
A health gut (flora) makes life a lot easier. The good news is: there is something you can do about that! Try Kaya Biotics – as a treat for your gut. Click on this link to save 25% off your first order, use code "wholehealth" at checkout. - sponsor
Mallika Chopra, wellness expert and the daughter of Deepak Chopra, is avidly working to give kids the tools they need. Mallika learned the practice of meditation at a very young age, and has tapped into her own expertise to author Just Breathe: Meditation, Mindfulness, Movement, and More.
Just Breathe is a fun and accessible, fully illustrated go-to meditation guide full of specific exercises to help deal with day-to-day challenges. Designed for kids age 8-12, The book includes practical advice on breathing techniques and guided meditations for a number of topics and scenarios, including:
Dealing with stress
Getting to sleep
Building self-confidence
Focusing on school/tests/other work
Ridding oneself of anxiety
Listen as Mallika joins Dr. Taz to explain the benefits of meditation and how Just Breathe can help kids learn to lead a healthier, happier, and more connected life.
Sponsor: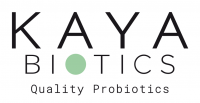 A health gut (flora) makes life a lot easier. The good news is: there is something you can do about that! Try Kaya Biotics – as a treat for your gut. Click on this link to save 25% off your first order, use code "wholehealth" at checkout. - sponsor